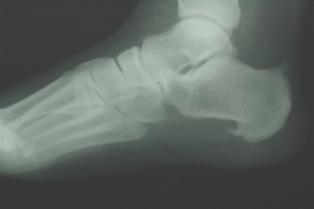 Overview
A heel spur is caused by the displacement of calcium on the bone that forms on the underside of the heel, it may be one small bony protrusion or a collection of tiny, irregularly shaped growths on the bone of the heel, which is called the calcaneum. Heel spurs are sometimes painful, described as a knife digging into the heel and other times, a heel spur goes unnoticed and is only detected by an X-ray.
Causes
Early signs of heel pain are usually due to plantar fasciitis, the inflammation of the plantar fascia. It is probably the most common cause of heel pain seen by the podiatrist. It is seen in all groups of people; runners, athletes, weekend warriors, people who have jobs requiring a fair amount of standing, walking, or lifting, and those who have recently gained weight. The pain most often manifests itself after periods of non-weight bearing when the plantar fascia is given a chance to rest, so your first steps cause a sudden strain to the tissue. Pain is most common with the first steps in the morning and after periods of rest. Fortunately, upwards of 80 percent of those treated early do remarkably well with conservative therapy.
Symptoms
It is important to be aware that heel spurs may or may not cause symptoms. Symptoms are usually related to the plantar fasciitis. You may experience significant pain and it may be worse in the morning when you first wake up or during certain physical activities such as, walking, jogging, or running.
Diagnosis
Your doctor, when diagnosing and treating this condition will need an x-ray and sometimes a gait analysis to ascertain the exact cause of this condition. If you have pain in the bottom of your foot and you do not have diabetes or a vascular problem, some of the over-the-counter anti-inflammatory products such as Advil or Ibuprofin are helpful in eradicating the pain. Pain creams, such as Neuro-eze, BioFreeze & Boswella Cream can help to relieve pain and help increase circulation.
Non Surgical Treatment
Rest won?t help you in case of pain from the heel spur. When you get up after sleeping for some time, the pain may get worse. The pain worsens after a period of rest. You will feel pain because the plantar fascia elongates during working which stresses the heel. It is important to see a doctor if you are having consistent pain in you heel. The doctors may advise few or all of the conservative treatments, stretching exercises, shoe recommendations, shoe inserts or orthotic devices, physical therapy, taping or strapping to rest stressed muscles and tendons. There are some over-the-counter medicines available for treatment of heel pain. Acetaminophen (Tylenol), ibuprofen (Advil), or naproxen (Aleve) are some such medicines which can help you to get relief from the pain. In case of biomechanical imbalances causing the pain, a functional orthotic device can help you to get relief. Your doctor may also advise a corticosteroid injection for eliminating the inflammation.
Surgical Treatment
Surgery involves releasing a part of the plantar fascia from its insertion in the heel bone, as well as removing the spur. Many times during the procedure, pinched nerves (neuromas), adding to the pain, are found and removed. Often, an inflamed sac of fluid call an accessory or adventitious bursa is found under the heel spur, and it is removed as well. Postoperative recovery is usually a slipper cast and minimal weight bearing for a period of 3-4 weeks. On some occasions, a removable short-leg walking boot is used or a below knee cast applied.
Prevention
o help prevent heel and bone spurs, wear properly designed and fitted shoes or boots that provide sufficient room in the toe box so as not to compress the toes. They should also provide cushioning in appropriate areas to minimize the possibility of the irritation and inflammation that can lead to bone spurs in the feet. If needed, use inserts that provide arch support and a slight heel lift to help ensure that not too much stress is placed on the plantar fascia. This helps to reduce the possibility of inflammation and overstress. Wearing padded socks can also help by reducing trauma. Peer-reviewed, published studies have shown that wearing clinically-tested padded socks can help protect against injuries to the skin/soft tissue of the foot due to the effects of impact, pressure and shear forces. Also consider getting your gait analyzed by a foot health professional for appropriate orthotics. If you have heel pain, toe pain or top-of-the-foot pain, see your doctor or foot specialist to ensure that a spur has not developed.